Services for September:
There will be a service most Sunday mornings at 11.15 am.
24 September

Anne Mills

1 October
The Minister - Harvest Service
8 October
The Minister - Pets' Service

15 October

The Minister
22 October
The Minister
29 October
The Minister
.....................ALSO .........!!

Barbara & Brian Freemantle will be renewing their wedding vows in church on this day, and the entire congregation is very cordially invited to the service, and to lunch of cottage-pie beforehand. Please join us for what we are sure will be a very happy, sacred and important ceremony..


Organists



First and Second Sunday's - Chris Price
Third, Fou

th

and Fifth Sunday's - Barry Brailsford
Exceptions as indicated

Note:

Dates and events may be subject to change – check this page frequently!
INTRODUCTORY BOOKLET:


A FAITH WORTH THINKING ABOUT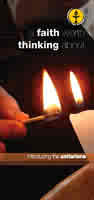 click here for a free download